Written by Sean Douglas, National Practice Leader, Hazardous Building Materials Group, Pinchin Ltd.
---
What is Bill 5: Workers Compensation Act?
In 2022, the provincial government introduced changes to the Workers Compensation Act, known as Bill 5 which introduces new legislation to help keep workers safe from the dangers of asbestos. This legislation aims to improve the safety of workers by reducing exposure to asbestos fibres, which can cause a range of serious health problems, including lung cancer and other asbestos-related disease such as mesothelioma.
The amendments include the establishment of requirements that asbestos abatement contractors must be licensed to operate in British Columbia and that workers who perform asbestos abatement work must complete mandatory safety training and certification. Workers must successfully pass a WorkSafeBC prepared examination to be certified.
What is Required?
For the licensing component, any employer that conducts asbestos abatement work will require a license to do this work. This includes the following types of work:
• Removing asbestos from buildings as part of renovation, restoration or demolition project.
• Removing asbestos from buildings as a consequence of a hazardous materials inspection.
• Conducting asbestos removal work related to another industry, for example a plumber offering asbestos removal services.
• Transporting or disposing of asbestos waste.
• Performing asbestos surveys and assessments.
For the certification component, any worker conducting asbestos abatement work must be certified even in situations where license is not required. The level of certification required depends on the type of asbestos work being performed and is divided into four components.
Level 1 Foundations – for anyone transporting and disposing of asbestos.
Level 2 Abatement – for anyone conducting asbestos abatement work.
Level 3 Worksite Management – for supervisors and others responsible for the health and safety at asbestos worksites.
Level S Surveyor – for asbestos surveyors and assessors who conduct sampling of asbestos materials as part of a hazardous materials inspection.
Currently, WorkSafe BC has established a working committee with industry stakeholders to help implement the new requirements which include, developing standards that asbestos safety training and certification programs must comply with, developing a licensing scheme for abatement contractors, amending the Occupational Health and Safety Regulation to align with the changes in the Act, identifying consultants, suppliers and vendors who will conduct the training of the asbestos abatement workers and contractors and vetting the approvals of those trainers.
In summary, these changes represent an important step forward for workplace safety in British Columbia. By requiring companies to be licensed and workers to obtain certification, the government is taking proactive measures to protect workers and the public from the health risks associated with asbestos exposure.
It is important that all stakeholders in the construction and renovation industry understand their obligations under the Act and work together to ensure that safe practices are followed on all job sites.
The requirements for safety training, certification and licensing will come into effect in January 2024 and Pinchin is working towards the approval to offer this safety training which is expected to available later this year.
If you'd like more information, please contact me or any of our local Pinchin Offices in BC.
Resources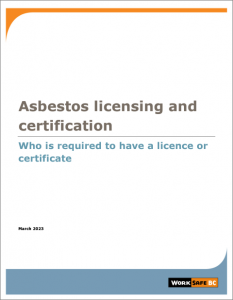 Asbestos licensing and certification: Who is required to have a licence or certificate
In 2022, the provincial government introduced amendments to the Workers Compensation Act that included requirements for asbestos abatement contractors to be licensed to operate in British Columbia, and for anyone who performs asbestos abatement work to complete mandatory training and hold a valid certificate. This document provides details on which employers will require licensing and which workers will require certification.