Written by Hussien Jaffer, Director, Hazardous Building Materials Group, Pinchin Ltd.
---
Pinchin is pleased to provide updates on ongoing and upcoming WorkSafeBC (WSBC) Sustained Compliance Initiatives for Schools that affect your operations as it relates to asbestos identification and management. Below is a summary of information provided by WSBC.
Summary of Asbestos Identification and Management from WSBC
Many schools have been constructed with asbestos materials and can be commonly found in drywall joint compounds, pipe insulation, vinyl sheet flooring, floor tile, vermiculite and many other insulation and building products. Those at greatest risk to asbestos exposure include maintenance staff, carpenters, electricians, plumbers, facility management and contractors hired that impact work on building materials and equipment.
WSBC began this sustained compliance initiative in 2016. The goals were to inspect workplaces for sustainable asbestos management programs that included elements for:
Identification and inventory of asbestos
Training and Education of Supervisors and Employees
Ongoing inspection and management of asbestos materials
Auditing of programs to evaluate effective management and continuous improvement
WSBC reviewed documentation and interviewed employees for knowledge of asbestos and how employees identify and deal with this risk in their day to day activities. As part of this sustained compliance initiative, WSBC completed inspections on Fifty-nine sites in 27 school districts, with over 50% of those inspections being conducted at district administration or other maintenance offices. The results of the 2016 inspection found that:
All school districts inspected had asbestos management programs in place
No asbestos materials were found in poor condition or disturbed
Fifty-eight orders were issued to improve existing asbestos management programs
The main WSBC orders were in relation to ongoing management of exposure control plans, maintaining an up to date inventory of asbestos materials, and required education and training of employees.
Second Round of Targeted Compliance Checks for Asbestos Management in K-12 Schools
WSBC has indicated that a second targeted compliance initiative for asbestos management practices will be conducted this year in the K-12 Sector. Since the initial targeted compliance initiative in 2016 there have been updates to the asbestos requirement in BC, including but not limited to,
Additions to types of building materials to be included / sampled during inventories
Changes to the quantity of samples required to be collected per type of building material during asbestos inventories
Additional Resources
Sustained Compliance https://www.worksafebc.com/en/about-us/what-we-do/worksafebc-plannedinspectional-initiatives/sustained-compliance/inspections-prevention-activities
WSBC Asbestos Information: https://www.worksafebc.com/en/health-safety/hazardsexposures/asbestos
WSBC Asbestos Guidelines: https://www.worksafebc.com/en/law-policy/occupational-healthsafety/searchable-ohs-regulation/ohs-guidelines/guidelines-part-06#SectionNumber:G6.1-1
WSBC Asbestos Regulation: https://www.worksafebc.com/en/law-policy/occupational-healthsafety/searchable-ohs-regulation/ohs-regulation/part-06-substance-specificrequirements#SectionNumber:6.1
Download the Pinchin HAZ Factsheet
HAZ Special Focus – School District Asbestos Inspections
We invite you to download the HAZ Special Focus factsheet about school district asbestos inspections. This factsheet provides essential information regarding asbestos management practices in K-12 schools. To download the PDF, simply click on the "Download PDF" button below. Stay informed and take the necessary steps to ensure the safety and wellbeing of students, staff, and faculty in your school district.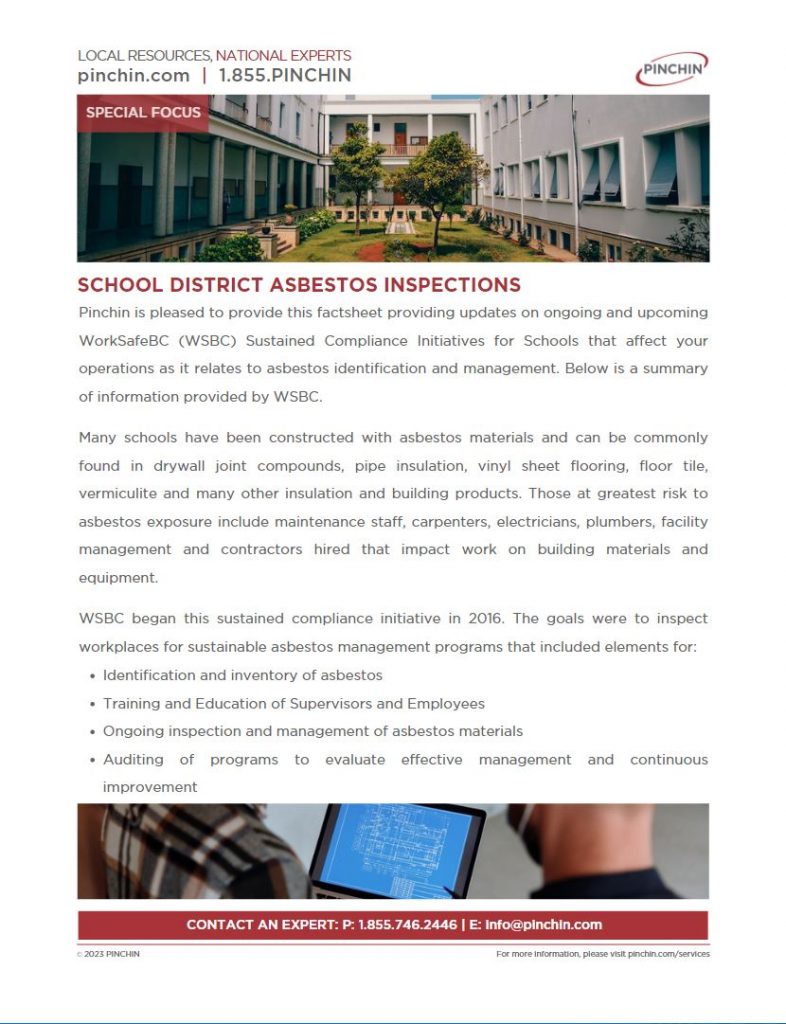 If you require any additional information or services in advance of the initiative or as part of an WorkSafe BC inspection please feel free to contact Pinchin at info@pinchin.com or 1.855.PINCHIN.