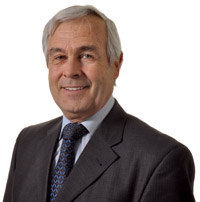 It is with tremendous sadness that Pinchin Ltd. announces the passing of its founder, Dr. Donald Pinchin. Dr. Pinchin died from cancer on July 29th surrounded by family. This greatly accomplished man lived a remarkable life, touching the lives of many. He was an inspiration to all and while his illness took him out of the direct operation of the company since late 2014, Don remained an important part of the cultural fabric with his vision for inclusion, respect and excellence.
Effective immediately, Jeff Grossi will expand his existing role as Chief Operating Officer to assume that of acting-President, which will include overseeing Pinchin's Board and Executive Committee. Organizationally Pinchin will continue to operate with its existing senior management structure. The Board will continue to meet to develop a formal long term succession plan for the President's position. In addition, the longer-term plan for a merger with Pinchin West in 2017 remains unchanged.
Said Mr. Grossi, "While all of us are deeply saddened by Don's passing, I assure each of our clients, employees, and the industry that it will be business-as-usual here at Pinchin. Pinchin is admired and respected for the family-like culture that Don built. Our company's leadership is strong, as is our knowledge and ability in our core services, and this combination will keep Pinchin on track with its strategic plan."
Established by Dr. Pinchin in 1981, Pinchin is an employee owned, multi-disciplinary environmental/building consulting firm, offering a full range of environmental, health & safety and engineering services to a wide range of clients. Pinchin's primary focus is on continually improving and broadening its capabilities to accommodate the unique diversity of its client-base.
Ranked as one of the top 50 places to work in Canada, Pinchin has over 370 employees and is part of the Pinchin Group which comprises a family of companies with close to 750 staff, providing services from a network of 36 offices across Canada.
For immediate inquiries please contact the following:
Melissa Almeida
Executive Assistant
905-363-0678
Contact Form