A proud milestone for Pinchin! Pinchin is celebrating 40 years of providing premier environmental and engineering solutions to clients and creating a workplace for employees to thrive. The firm has come a long way from the office that Dr. Don Pinchin rented when he founded the company in 1981. Today, Pinchin employs more than 800 professionals in 33 offices across the country and remains steadfast in approaching every project with integrity, honesty, and accountability.
With a 15-year tenure as CEO, Jeff Grossi is focused on the firm's evolution as it embraces future opportunities for growth. "Pinchin's 40 years of client centric consulting has guided the firm's ability to deliver comprehensive services to an expanding diverse client base." A combination of organic growth, client confidence, top talent, and strategic innovation has allowed Pinchin to anticipate and respond to multi-disciplinary client service requirements and celebrate 40 years in the marketplace with deep appreciation for all stakeholders who have been part of the journey.
Through two seamless mergers (Pinchin West in 2017 and Pinchin Leblanc in Atlantic Canada in 2019), Pinchin's integrated offices and service offerings have fortified the team and environmental expertise across the country. In addition to Hazardous building materials and Environmental laboratory services, Pinchin offers Building Science, Construction & Project Management, Environmental Due Diligence & Remediation, Environmental Natural Science, Environmental Risk Assessments, Emissions Reduction & Compliance, Geotechnical Services, Indoor Environmental Quality, Mechanical Engineering, Occupational Health and Safety and, Innovation and Technology consulting.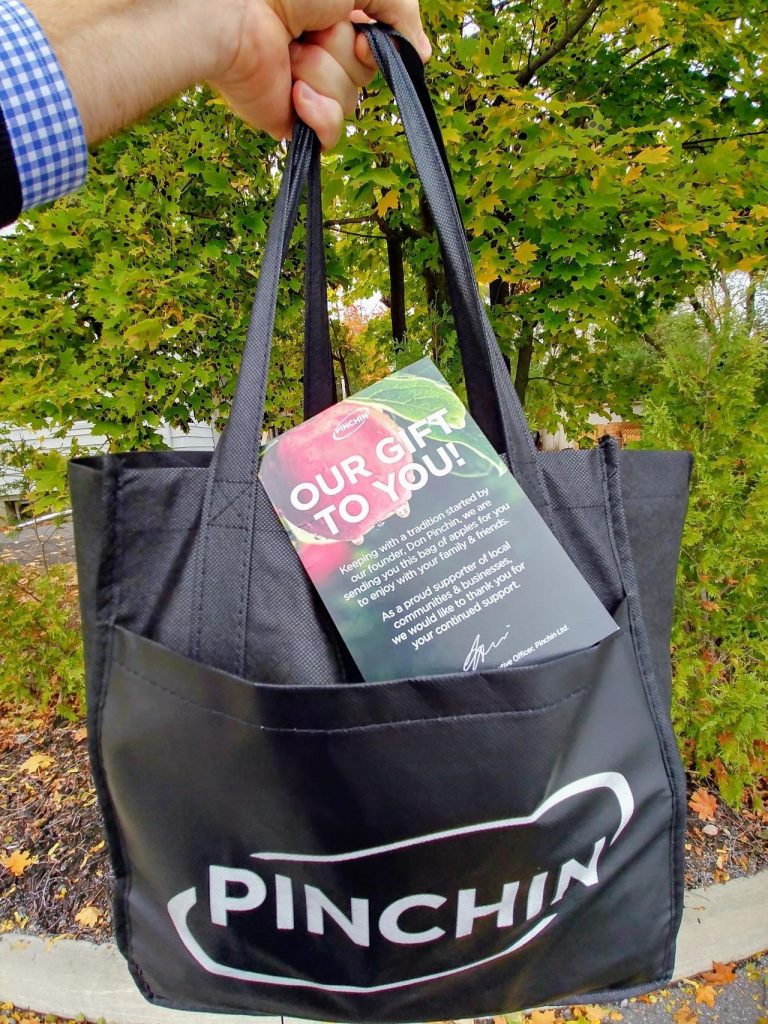 Bolstered by a network of experts with in-depth sector knowledge, Pinchin leverages local resources combined with national expertise to ensure the management of projects from start to finish, identifying and managing risks, and delivering the best industry leading solutions regardless of location. Moreover, understanding unique regional contexts of each project allows Pinchin to ensure clients are informed and compliant with all local, provincial, and federal regulations, while still providing boutique level customer service with a personal touch valued by clients. The personal touch extends through the annual Apple Campaign—a tradition started by Don Pinchin, who gifted apples from his family's orchard.
Recognition that every project provides an assortment of challenges that require effective teamwork is welcomed by the firm, as evidenced through transparent and collaborative problem-solving. Teams work actively with each client to explore multiple options, allowing clients to select the best short to longer-term solution for their project.
Pinchin's unrelenting solutions-focused approach to drive timely and effective customized services to fit clients' needs is reinforced by a client management approach that values trust and collaboration. The firm can deliver these core differentiators because of the best-in-class Pinchin team of professionals as highlighted by Grossi,
Our people drive our success. A combination of environmental subject matter experts, fully trained professionals with proven methods and quality standards, continued training and development, and a commitment to excellence creates a culture where people thrive and deliver their best. Pinchin is fortunate to have the best talent in the industry—a team that I learn from daily and that inspires me to nurture and grow the firm to its full potential.
A leader in the Canadian market, the next 40 years offers Pinchin the opportunity to explore innovative opportunities for its professionals, clients, and the industry. Underpinning its future are its people and the core values that guide every decision in the delivery of multidisciplinary environmental and engineering capabilities second to none.