This summer, the Pinchin team has been participating in its very first Great Canadian Shoreline Cleanup, a nation-wide volunteer initiative inspired and facilitated by Ocean Wise© and the WWF©. From May to September, employees from almost every Pinchin office across Canada will be picking up litter in Canadian parks, rivers, and along our shorelines for the protection of wildlife and humans alike.
Whether its cigarette butts, grocery carts, plastic or foam, there is no questioning that human production of litter and waste is on a dangerous trajectory that will have far-reaching consequences lasting well into our grandchildren's lives. This problem is global, urgent, and often overwhelming, but there is power in positive action even if it's on the smallest scale.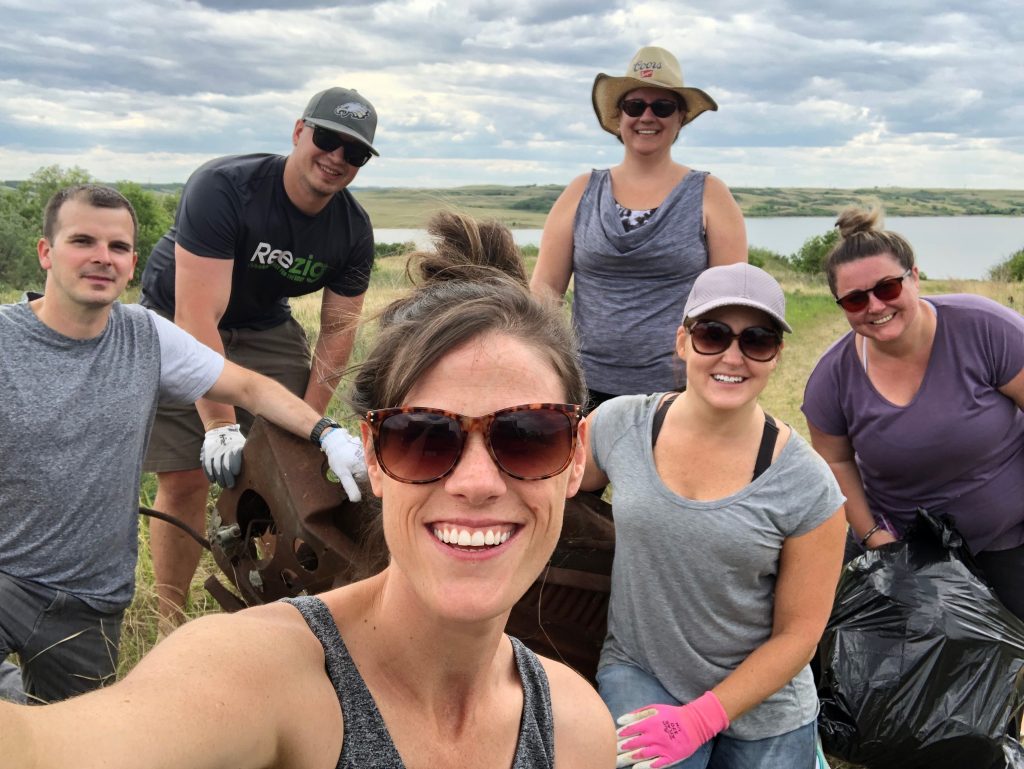 As of July 1st, sixteen Pinchin offices have already devoted their time and energy to cleanups in their communities, including:
| | | |
| --- | --- | --- |
| Hamilton | Skyway Park, Hamilton | Thursday, May 30th |
| Peterborough & Oshawa | Rogers Cove, Peterborough | Wednesday, June 5th |
| Regina | Last Mountain Lake at Regina Beach | Monday, June 17th |
| St John's | Kitty Gauls Brook, St. John's | Thursday, June 20th |
| Brandon | Queen Elizabeth Park, Brandon | Thursday, June 20th |
| Kelowna | Bellevue Creek, Kelowna | Friday, June 21st |
| Barrie | Dyment Creek, Barrie | Friday, June 21st |
| London | River Forks Park | Friday, June 21st |
| Mississauga | 16 Mile Creek, Milton | Friday, June 21st |
| Winnipeg | Red River, Winnipeg | Tuesday, June 25th |
| Toronto | Lower Don River | Tuesday, June 25th |
| Mississauga | Speed River, Guelph | Wednesday, June 26th |
| Calgary | Douglas Glen, Calgary | Wednesday, June 26th |
| Richmond | North Arm Jetty, Vancouver | Wednesday, June 26th |
| Ottawa | Insmill Park Pond, Ottawa | Thursday, June 27th |
| Mississauga | Credit River, Mississauga | Friday, June 28th |
At this point, hundreds of kilograms of garbage have been removed from nature and delivered to their proper disposal sites. We were surprised to discover the number of strange items being thrown away, such as a rusted ride-on lawnmower, grocery carts, tires, bed frames, and an ungodly amount of cigarette butts and microplastics.
As an Environmental Consultant, Pinchin is closely connected to the natural world and feels responsible for its protection. We're thrilled that Ocean Wise© and WWF© have helped make this volunteer opportunity a national reality, and we are extremely proud to be a part of this great cause.
But it's not over yet! We still have some time left to add to our totals, so stay tuned for further updates regarding this exciting initiative.
If you are interested in leading or joining a Cleanup event, or if you want to learn what you can do to protect Canada's shorelines, visit shorelinecleanup.ca today!