The week of June 21-27 is annual Pollinator Week, which is celebrated internationally in support of pollinator health. It is a time to celebrate pollinators, such as the honey bee, and spread the word about what we can do to help protect them.
Pinchin understands the vital role of honey bees as did our founder, Dr. Don Pinchin, who grew up on his family's Apple Orchard farm. The honey bee is responsible for sustaining our ecosystems by helping plants reproduce. It is estimated that pollinators like bees and butterflies help pollinate approximately 75 percent of the world's flowering plants and roughly 35 percent of the world's food crops.
– Buzzworthy Fact –
The honey bee is the only insect that produces food eaten by man
Our contribution to helping protect the environment, began many years ago when Pinchin began donating to the Honey Bee Research Centre at the University of Guelph, and continues today with our support of this legacy and the amazing work of the research centre.
---
The Honey Bee Research Centre's mission is to help honey bees continue their vital work in agricultural productivity and ecosystem sustainability.
---
As we celebrate our 40th Anniversary, Pinchin will be contributing to the construction of a new state-of-the-art Honey Bee Research Centre, that will focus on bee health education, research, advocacy, and outreach. The current facility has completed some incredible research that is helping educate the world with hands-on training courses and a variety of online videos that are watched globally.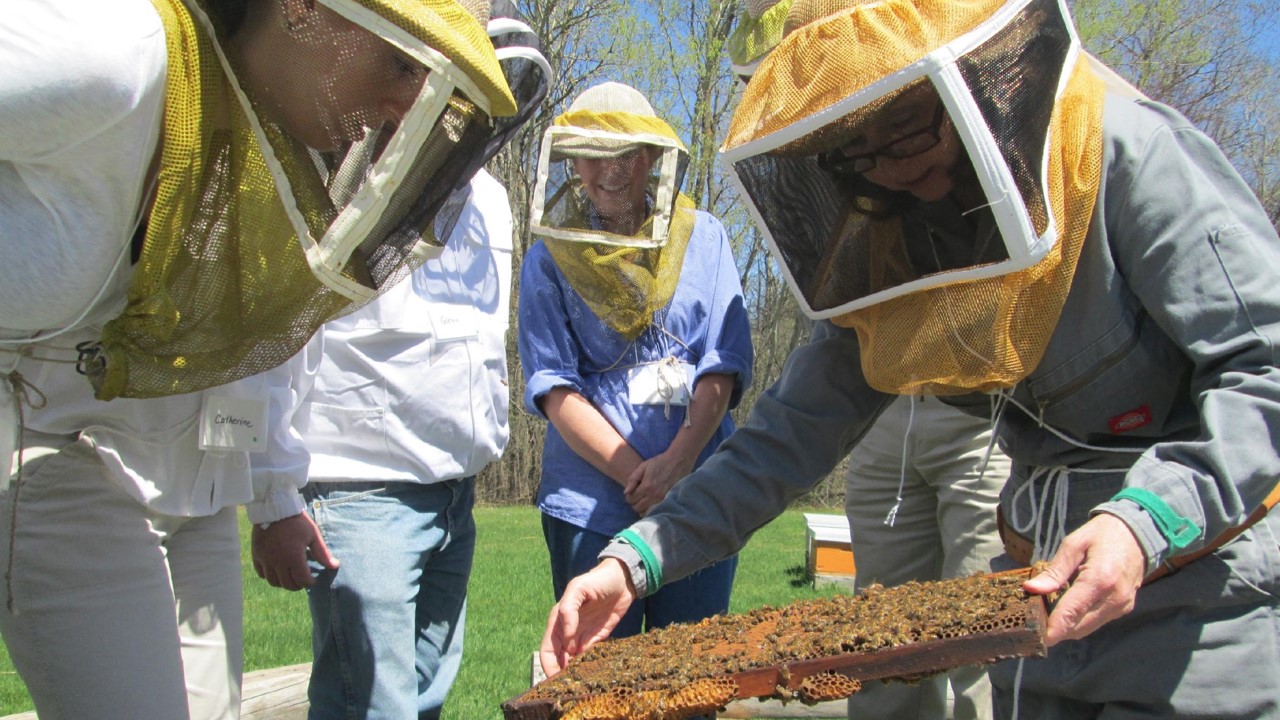 The Future Honey Bee Research Centre
---
The new state-of-the-art facility will have a much greater capacity to continue public engagement with a visitor center, extended classroom space to continue to educate students, and a larger bee Apiary. It's an opportunity to showcase to the world that the Honey Bee Research Centre at the University of Guelph is a leader in honey bee research.
– Buzzworthy Fact –
Fermented honey, known as Mead, is the most ancient fermented beverage. The term "honeymoon" originated with the Norse practice of consuming large quantities of Mead during the first month of marriage.
Buzzworthy Facts About Our Bee Culture
---
– Buzzworthy Fact –
The average honey bee will make only one-twelfth of a teaspoon of honey in its lifetime.
How Do You Enjoy Your Honey?
---
What are some of the ways you like to enjoy honey? We have asked Pinchin employees to share their favorite honey recipes for a chance to be featured during Pollinator's week across Pinchin's Social Media platforms. During the week of June 21st, see what everyone is buzzing about and keep a look out for upcoming featured recipes that will be posted on our Social Media pages.
Follow Us On Our Social Media Channels
– Buzzworthy Fact –
Honey bees communicate through a series of dance moves.
Working Together, Making Things Better
---
A viral video of 2 bees working together to rotate and twist off the cap of a bottle of Fanta to gain access to the sugary drink.
---
Help support the new Honey Bee Research Centre by either making a donation or visiting their online store and ordering some delicious honey, or one of their other fantastic bee products like beeswax candles, lip balms, and apparel.
---