Pinchin's Social Committee organizes internal fundraiser events for our employees that include office BBQs during the summer and potluck luncheons to name a few. The funds raised from these events are gifted to our selected charities at the end of the year, which is our way of celebrating the Season of Giving and supporting our local community.
This year, Ronald McDonald House Charities (South Central Ontario) was selected as one of our 2019 Charities. Pinchin's CEO, Jeff Grossi and a group of Pinchin team members recently participated in Ronald McDonald House's Hamilton "Meals That Heal" program.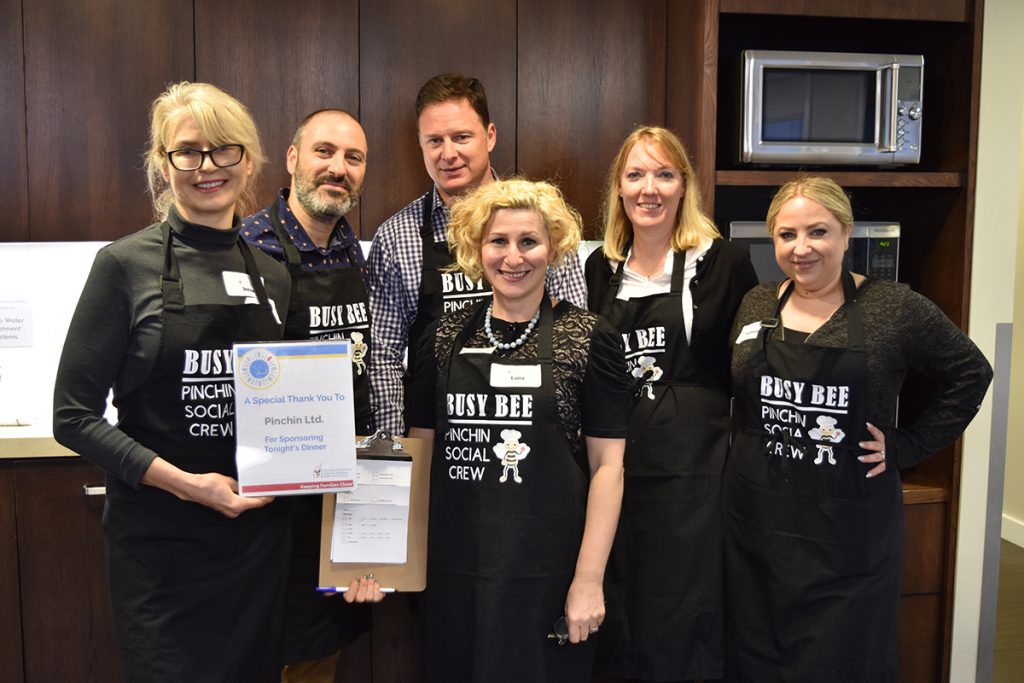 The Hamilton Ronald McDonald House
The Hamilton Ronald McDonald House (RMH) is conveniently located next to McMaster Children's Hospital, internationally recognized for its Neo-natal health and juvenile cancer treatments. Initially built in 1993, the Hamilton RMH is independently owned and operated by Kid's Care Oncology Central West Ontario and is managed by a small team of staff and supported by dedicated volunteers.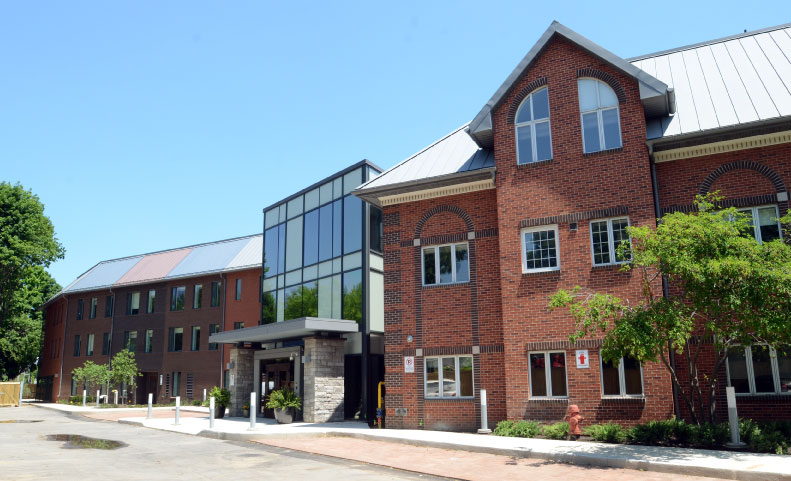 In 2012 the Hamilton RMH expanded from it's original 15-bedroom home into a 55,000 Sq/ft house with 41-bedrooms to help serve more families in their time of need. Each Ronald McDonald House is uniquely designed to embrace and incorporate aspects of the local community. In the main lobby of the home, guests are greeted by a large water and steel feature wall that symbolizes Hamilton's steel town history and the many waterfalls that are scattered throughout the region. The house is full of amenities and features that allow it to feel like a home for each of the families that stay. The home has multiple communal rooms to allow families a place to gather with their guests or cuddle up on the couch for a movie. A fully stocked gym provides family members an avenue to relieve some of their stress. A "Finding Nemo" themed play room for toddlers contains a calming tank housing fish from the movie. A theater with snacks and a popcorn machine allows guests the full experience of going to the movies. A games room equipped with a pool table, air hockey table, darts and even a basketball arcade game to help pass the time. A large outdoor kitchen with multiple BBQs for large gatherings and plenty of natural outdoor space, creating a peaceful environment to relax in.
Recognize This Kitchen?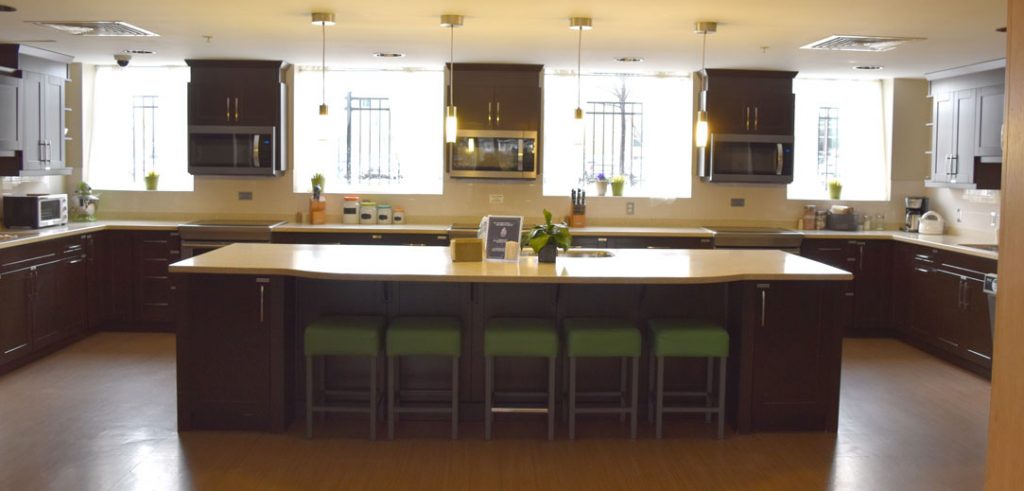 You might recognize this kitchen from a recent Ronald McDonald House commercial where a young girl asks her mother if her friend can come over for dinner. The shared kitchen is part of the Hamilton RMH and provides families an opportunity to cook their own meals. Interesting fact: the families featured in the commercial are real house guests that have previously stayed at the Hamilton RMH.
Time to get to work!

One of the great features that the Hamilton house offers its guest that no other RMH has, is a full-time culinary team who, with the help of volunteers, serve the families staying at the RMH with two warm meals each day. After a heartfelt tour of the house, Jeff Grossi and the Pinchin team was quickly put to work in the kitchen – peeling, slicing and dicing some of the donated items that had just come in and preparing for the upcoming week's meals. After the food prep was completed our team was kicked out of the kitchen to let the real chefs take over, but our work was not yet done! As part of the RMH Bistro Style Dinner being served that evening, Jeff and the team were tasked with taking orders and waiting tables in the dining area where a number of families would come in and enjoy a warm meal. Working alongside regular RMH volunteers, the Pinchin team learned more about their dedication and commitment to the cause. Their individual stories and reasons for taking part in this wonderful initiative inspires us.
What can you do to help the Ronald McDonald House?
Whether you're looking for a teambuilding activity for colleagues or a fun way to gather and give back, volunteering with RMHC Meals That Heal is a great way to give families peace of mind and a taste of home. Be a part of something bigger, make a difference in your community and become a volunteer at your local Ronald McDonald House.
For more information about Ronald McDonald House Charities South Central Ontario, or to learn how you can volunteer, visit https://www.rmhcsco.ca/home
To learn more about some of the other Corporate Social Responsibility initiatives Pinchin teams across Canada engage in, visit our CSR page.