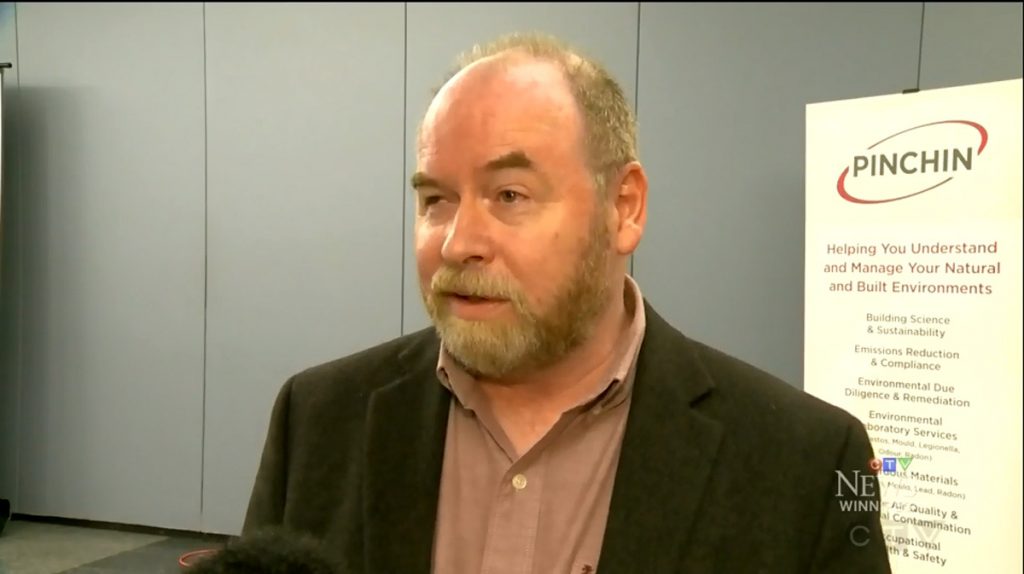 Pinchin Ltd.'s National Practice Lead for Radon Scott Cryer, was featured on CTV News discussing the importance of testing for Radon. Scott was in Winnipeg taking part in a panel discussion on radon along side Pam Warkentin – Executive Director at CARST, Kelly Gosselin – Owner of FloPro Radon Solutions & Sandy Hutchison – Regional Radiation Specialist with Health Canada.
Radon is the leading cause of lung cancer for non-smokers?  Health Canada states that approximately 3,200 Canadians die each year as a result of radon induced lung cancer.
Radon is a naturally occurring radioactive gas that is present in all the air we breathe. Outside, radon is diluted and of little concern, but indoors, radon can become concentrated and create an indoor air quality issue and significant health hazard. You cannot see, smell or taste radon and as a result, elevated levels could be present inside a building and you would never know without testing for it.
For more information on Radon or to purchase a radon testing kit, visit our radon-in-your-home page.