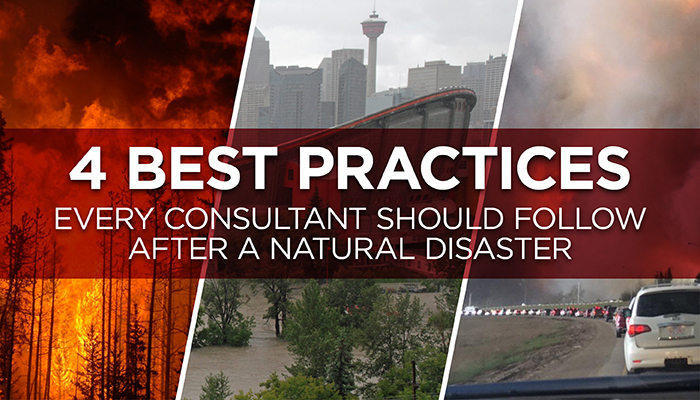 4 best practices every consultant should follow after a natural disaster
Alberta has seen its fair share of natural disasters over the last few years, including the 2011 Slave Lake Fire, 2013 Calgary Floods and of course the 2016 Fort McMurray Fire. Although media focus is often on emergency personnel, during these chaotic events consultants, scientists, and engineers respond to countless residential, commercial, industrial and institutional properties. We provide professional expertise on a wide variety of soil, groundwater, surface water, asbestos, indoor air quality, building envelope, and mould problems.
Natural disasters often come without warning. Consultants need best practices to ensure we're as ready as we can be. With the events of the past six years, Pinchin has had the unfortunate opportunity to hone these best practices. Here are some best practices that we've learned:
1. ESTABLISH WHO WILL TAKE THE LEAD ROLE
"Many hands make light work" is a tried, tested and true theory, but not when it comes to Pinchin's reaction to catastrophes. It is critical, in order to expedite solutions, to coordinate fieldwork and deliver on promises that only one person take the lead role. All other day to day activities are delegated to others while this one individual manages the entire process. This same theory applies to those conducting the fieldwork. It's important to find the fine balance of keeping employees fresh and rested while allowing continuity to ensure samples are appropriately collected and promises of delivery are kept. It is ideal to use a minimum number of staff for consistency, but it is important to be aware of needs related to rest and downtime.
2. BE FLEXIBLE & REALISTIC
Being flexible and realistic to client problems is an absolute must. Catastrophes are chaotic by their very nature; what is expected from a consultant by a client, a regulator, an industry and the public is not the same as every other day. Standard procedures may warrant modification to balance an influx of unique problems while ensuring all stakeholders are adequately protected. Constant communication with clients and regulators is key element of disaster response.
3. KNOW WHAT YOU'RE GETTING INTO
While there is a desire to provide response as soon as possible, it is important that we be prepared to act fast, but not before the situation in the area is known. Field teams need to know they are entering a safe area with the support of the company behind them. Knowing which resources will be unavailable becomes perhaps even more important than which will be available. Are local hotels operating and which have vacancies? What other accommodation is there? Is there food access? Are the cellular towers working? Are first responders present? These are all questions employees need answers to before sending them into the area, and it is their employer's responsibility to provide them.
4. LEVERAGE YOUR RESOURCES
Pinchin and its sister companies employ approximately 750 people across 37 offices across Canada and these resources are counted on as we respond to catastrophic events. For example, once local field work in Alberta is complete, reports can be written from an office in St. John's. Supplementary field staff can be kept on standby in Timmins, while fieldwork can be coordinated by a Project Manager in Vancouver. Leveraging staff across the country is critical when time is of the essence. This provides clients the peace of mind that we can handle the massive scale of these disasters.
Responding to numerous unique catastrophes have taught Pinchin the value of being flexible, responding quickly, and the satisfaction of knowing our staff and Pinchin as a whole was part of the solution during a difficult time.
Pinchin hosts a wide range of courses and complimentary breakfast seminars to provide you the information you need to be able to work in today's complex regulatory and due diligence framework. All of our courses are taught by Pinchin's subject matter experts and can be offered at many of Pinchin's offices, at a local venue, or even at your place of business. To learn more, visit www.pinchin.com/courses
If you'd like to hear more about other best practices or how Pinchin can help you understand your natural and build environments, please feel free reach out to me directly.
Greg Rusling,
Executive Vice President, Alberta and Prairies
403-444-4936