Saturday, March 9th marked the 34th annual BOMA Edmonton Awards Gala to recognize the key players in the Edmonton's real estate market. Amongst the 310 guests at the gala were MP's, Councillors, and Edmonton's Mayor Don Iveson. BOMA (Building Owners and Managers Association) was formed in 1967, and exists to represent the industry to outside parties and act as a resource for information on issues relevant to the membership.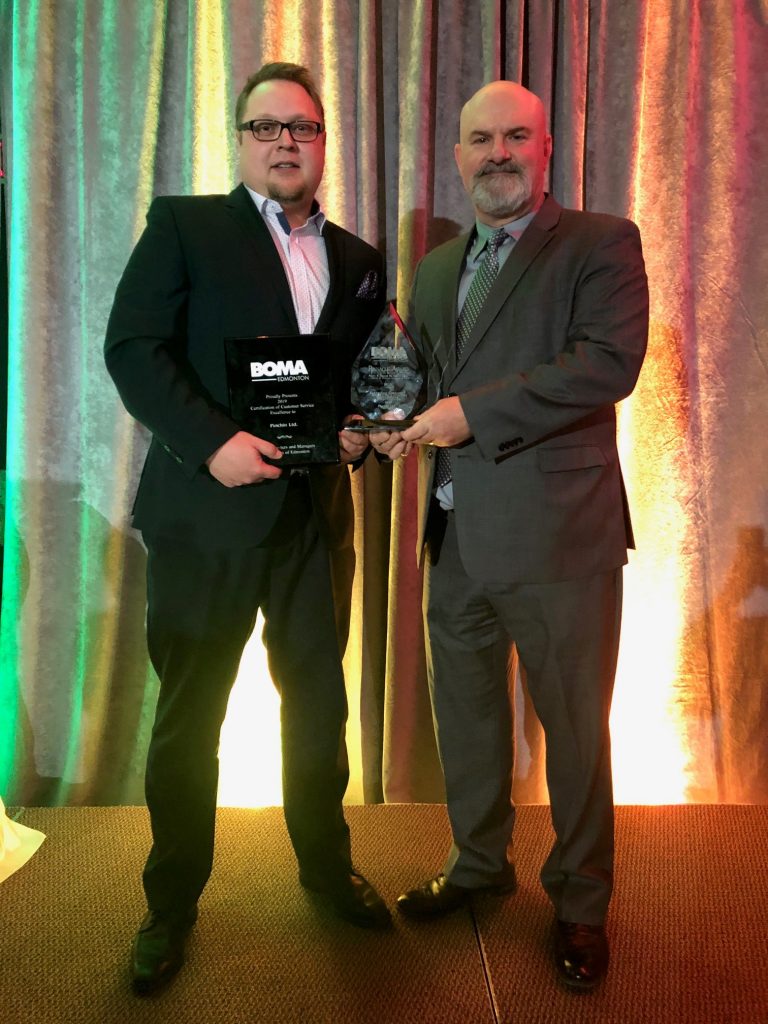 This year's Awards Gala covered 9 categories in the industry, and the recipients of which are recognized as examples of excellence in each respective category of Edmonton's real estate sector. Pinchin Ltd. was fortunate to be recognized in two of these categories and our Business Development Manager, Corey Klimchuk was excited to accept these awards on the company's behalf.
We are honoured to have been recognized for the following awards:
Pinnacle Award for Above and Beyond the Call of Duty – This award is aimed at individuals or companies who have provided a service to a customer that was unexpected, extraordinary, surprising, caring or perhaps even entertaining and outrageous. The performance of the service could have resulted from a mistake that was corrected and possibly enhanced, or possibly an opportunity seized to show how far the applicant is willing to go to exceed customer expectations
Certification of Customer Service Excellence Award – This award is aimed at those customer focused, customer driven, high service companies who consistently provide excellent customer service
As the recipient of the Pinnacle Award, Pinchin is now eligible for consideration in this category at the National competition at BOMEX, Canada's Building Excellence Summit.
These awards are a testament to Pinchin's customer-first focus, not only in the Alberta area, but across the nation as a whole. It is only appropriate that our biggest thanks goes to all our amazing clients and partnerships across Canada. Without you all, Pinchin would never have the opportunity to be recognized at events like this.
So to our clients and industry partners, on behalf of all of Pinchin Ltd., Thank you!
---
For more information on the services Pinchin Ltd. can help you and your business with, please contact Corey Klimchuk at our Edmonton office or reach out to any one of our 40 offices across Canada