Written by: Kristopher Anderson, Operations Manager and Chris Taylor, Practice Lead in the Occupational Health & Safety Group at Pinchin Ltd. 
July 5th is National Injury Prevention Day. Originally founded in 2017 by Parachute Canada (www.parachutecanada.org), a non-profit organization focused on injury prevention, this July 5th will be the second annual.
While Parachute Canada and National Injury Prevention Day focusses on all injuries, particularly those non-workplace related, we felt we would like to focus on workers and highlight how pervasive injuries remain.
The following infographic from the Association of Workers' Compensation Boards of Canada (AWCBC) is from 2016 and details the number of lost time claims in Canada by gender and age. Data from 2016 is the most current released, with numbers for 2017 expected to be very similar.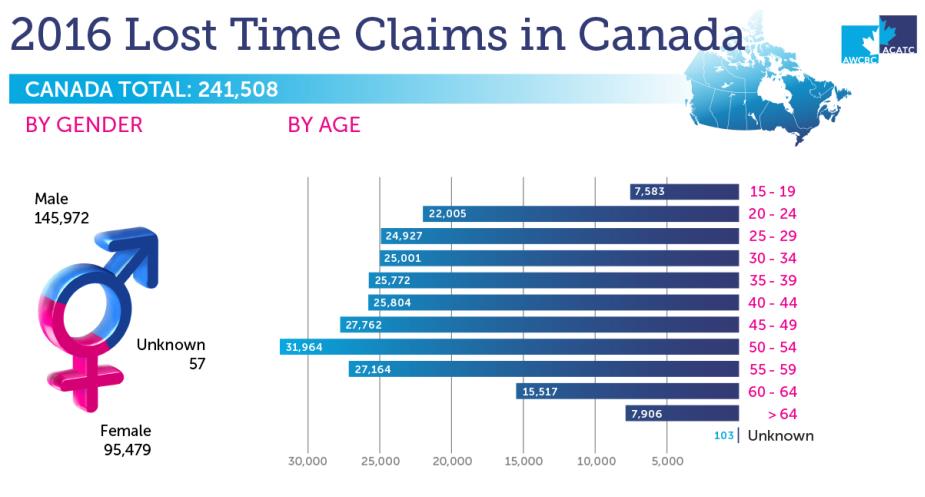 There were almost a quarter million lost time claims in Canada in 2016 alone! This number in one year also does not take into account all of the injuries that did not require medical aid, did not involve any lost time, or were simply not reported.
Of note is that all age groups except youth and those over 60 had relatively similar numbers – except the 50-54 age group who were statistically higher. As managers of health and safety, we have to understand that our workforce is aging and that older workers will stay in the workforce longer and, at least statistically, have a greater risk of injury.
When looking at the statistics related what event or exposure was the cause of the lost time claim injury, three key causes are apparent from AWCBC information; first, bodily reaction and exertion (ergonomic injuries); second, falls; and third, contact with objects or equipment (hitting or being hit).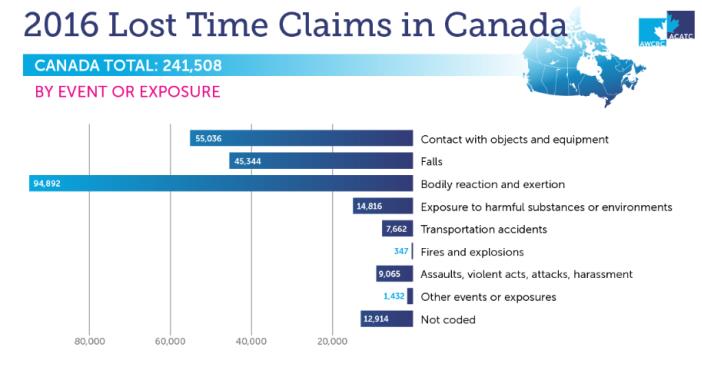 All of this knowledge is critical in understanding what areas are best focused on to prevent the greatest numbers of injuries.
To prevent personal injuries in the workplace, we can start by asking some very basic questions:
Do I fully understand the task I'm being asked to complete?
Do I feel sufficiently trained and experienced enough to do the job?
Am I physically capable of doing the task (not impaired, not tired, physically capable)?
Do I have all the necessary equipment to do the job safely (not just personal protective equipment – even the tools we use can be a factor)?
Do I have enough time to do the job safely (rushing can be a major factor)?
While there are numerous other approaches, particularly involving diligent hazard assessment processes, each of us as individuals are ultimately responsible for stopping if you can't answer yes to each of those questions.
In honour of this initiative, Municipalities across the nation are pledging support for National Injury Prevention Day (NIPD) by lighting major landmarks in green. For a full list of the landmarks taking part in this event, visit the Parachute website. We encourage you to visit your local landmark and share your pictures online with the hashtag #ParachuteNIPD. If you happen to be in Edmonton where I am based, look for the High Level Bridge to be lit green that evening.
Be safe out there and wear green on July 5th to show that you too believe in preventing injuries!