The Board of Directors of Pinchin Ltd. is pleased to announce the appointment of Lis Wigmore as an independent director of the firm.  Ms. Wigmore's appointment is effective immediately and expands the Board to nine directors.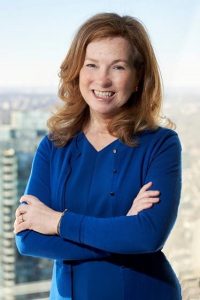 Ms. Wigmore is currently on the Board of PiRET, one of the largest publicly-traded REITS in Canada; is on the Board of Invesque, a real estate investment company specializing in healthcare properties; and is Vice Chair of the Board for Fred Victor, a charitable organization that fosters long-lasting and positive change in the lives of homeless and low-income people living across Toronto.   Ms. Wigmore is presently a consultant with Hillsdale Investment Management, a Canadian partner-owned investment boutique managing over $2 billion for Institutional and Private Wealth investors.  Prior to her work with Hillsdale, Ms. Wigmore was COO of Ipc US REIT, with 12 million square feet under management and an enterprise value of US$1.5 billion.
"Lis's board member experience and hands-on knowledge of the real estate industry will provide tremendous insight to Pinchin" says Jeff Grossi, Pinchin's CEO.  "As an independent board member, we welcome Lis's perspective as we continue to grow and evolve our company and governance platform."
Ms. Wigmore achieved her Chartered Corporate Director designation from the DeGroote School of Business in 2011, and holds an MBA from the Schulich School of Business and an Honours Bachelor of Arts from Western University.
Pinchin Ltd. is an employee owned multi-disciplinary environmental, health & safety and building engineering consulting firm, offering a full range of services to Canadian businesses. Since its founding in 1981, Pinchin has grown to become a high quality solution provider with 40 offices and over 800 people across the country.
Questions can be directed to Patricia Granger, Executive Assistant to Jeff Grossi. (905) 363-1333